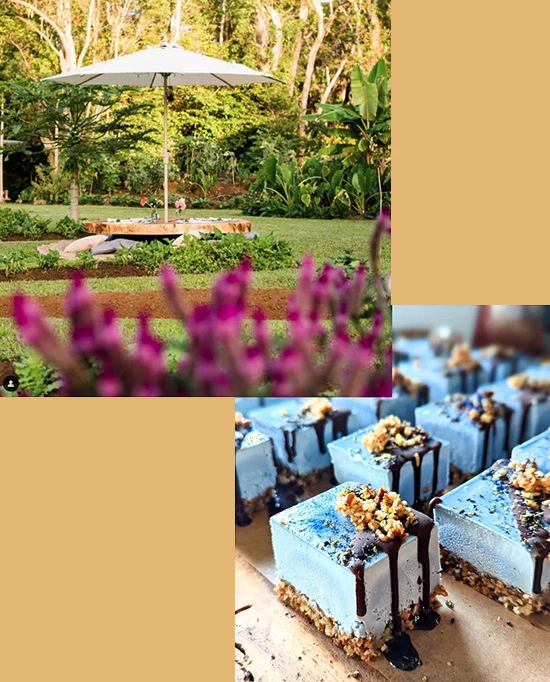 The Inside Scoop. Do not miss this north shore summer experience.
...
Here on the north shore, behind a beautiful hand forged gate and down a meandering drive with horses grazing in a field, you arrive at the Sol Projex farm, where we had the most uniquely magical farm-to-table experience ever. The farm is vibrant with thriving plant life and community. You instantly experience a tremendous sense of peace. Jack Whitfield, the founder, takes us on a farm tour through the foundation where they are working on regenerative projects such as flipping the paradigm of Hawaii importing 90% of its food and building materials to 90% local organic nourishment and 90% locally sourced sustainable building materials. They are doing it here and they are teaching others how it can be done elsewhere.
Now for the very best part... We then sat down in the gardens, with live musical entertainment, to the most delicious and perfectly paced five course biodynamic, freshly foraged, plant-based meal created by culinary artist and food alchemist, Anna Enderes. Her high vibration elixir beverages, savory courses with complex delightful flavor combinations, and otherworldly dessert were next level. You walk away feeling healthier and clearer of mind, like a full day at a spa. This summer series is currently only happening in the summer. Friday evenings at 5 pm. You can also reserve the farm for a private dinner with your group. We will send out a reminder to our arriving guests but I suggest reaching out to the Sol Projex Foundation right away to hold a spot or to get more information on curating your own private experience.
Mahalo nui and hope to see you there.
Contact Us